Online Content
Issue Online Content
Contents - log in to gain access
Online Contents - Full Download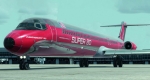 Full Online Contents Download
As requested by our readers, the complete file set accompanying Issue 120 can now be downloaded as a single zip file.
Movies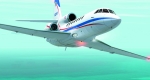 Flysimware's Falcon 50
This video takes a close look at the internal and external detailing of Flysimware's Falcon 50 (review starts on page 12). You are also given a tour of the high-quality cockpit and instrumentation –shown both during the day and at night.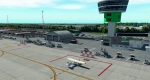 Airport Bergamo for X-Plane 11
This video of Airport Bergamo for X-Plane highlights the high-quality ground and building textures, the wide variety of accurately placed custom objects, the 50cm/pixel aerial imagery with hand-placed autogen, the use of dynamic lighting and the custom-generated jetways. Our review of this fine scenery add-on starts on page 24.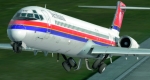 Fly the Maddog X Tutorial - Preliminary Cockpit Preparation
This is a comprehensive walkthrough of the pre-start preliminary cockpit preparation of Fly the Maddog X – a review for which starts on page 16. Every aspect is covered, from powering up the aircraft through to making sure that the flaps/slats are up, the speed brakes are retarded and disarmed and testing the PA/emergency lights. You will also hear the communication between the various crew members as they go through the check procedures.
SkunkCrafts' P-51D Mustang for X-Plane 11
This promotional video highlights some of the key features of this fabulous rendition of the iconic P-51D Mustang from SkunkCrafts, a review for which starts on page 68. Starting with the beautifully rendered external model, we are then taken inside to view the extreme attention to detail present in the cockpit area, which includes subtle weathering throughout. You will then hear the highly immersive FMOD sounds of the switches and levers being operated and the Packard Merlin engine being fired up, on take-off and in flight.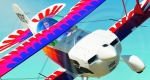 DCS: Christen Eagle II
This presentation of the aerobatic DCS: Christen Eagle II showcases the aircraft's extreme manoeuvrability. Highlights also include an impressive DCS: Christen Eagle II three-ship aerial display, encompassing smoke and the aircraft taking part in a Red Bull-type obstacle course race. Our review starts on page 28.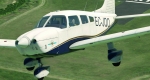 Just Flight's PA28-181 Archer III for X-Plane
Reviewed on pages 32-34, the trailer for Just Flight's Archer III conveys the very high production values of this superb simulation. Showcased are the superbly detailed and crisp internal and external features, which includes the photorealistic cockpit rendition, metallic look of the external finish, the comprehensive menu system and the night lighting.
Tutorials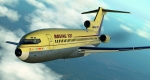 Flight Adventure
You can download flight plans and Pilot's Notes for both FSX/Prepar3D and X-Plane 11 from here. The Pilot's Notes include aircraft and scenery options for FSX, P3D and X-Plane 11.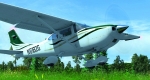 Back to Basics
Download the updated flight planning spreadsheet and flight plans for Plan-G, FSX/P3D and X-Plane using the link below. Courtesy of A2A Simulations, the full C182 Pilot's Operating Handbook and an extract of the C182 performance charts are also available.
Freeware Files
Library files
Most X-Plane users will already know that many freeware airport designers make use of the freeware Library files to enhance their creations. Consequently, it's important to read the documentation within each file, to find out which libraries have been used. These library files need to be installed in order to experience these airports as the authors intended.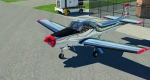 Featured Download - Ryan Navion 205 Vintage Aircraft
We travel back a few years with the aircraft featured in this issue; it's a Ryan Navion 205, built in the United States in the 1940s.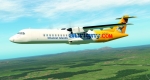 ATR72-500 1.2.0
The ATR 72 is a twin-engine turboprop, short-haul regional airliner developed and produced in France and Italy by aircraft manufacturer ATR. The aircraft depicted here was designed for X-Plane 11 by Christian Riviere.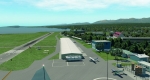 Courtenay Airpark CAH3
Courtenay Airpark is located next to Courtenay, British Columbia, Canada. It's the largest city on the east coast of Vancouver Island, commonly known as the Comox Valley and was designed by the prolific Charles Macelli for X-Plane 11.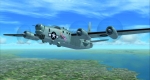 Consolidated PB4Y-2 Privateer
The Consolidated PB4Y-2 Privateer, is a World War Two- and Korean War era patrol bomber used by the United States Navy. The model depicted here is nr R582 Miss Sea-Ducer and was designed for FSX/P3D by A.F Scrub.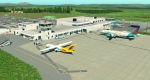 Ireland West Airport Knock
Officially known as Ireland West Airport Knock, this airport is 5.6km (3.5 miles) southwest of Charlestown, County Mayo, in Ireland. This very detailed production for X-Plane 11 was designed by Cian O Riordan.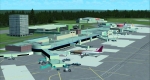 Stanfield Int. Airport CYZH, Halifax
This is a Canadian airport in Goffs, a rural area of Halifax, Nova Scotia. It serves Halifax, mainland Nova Scotia and adjacent areas in the neighbouring Maritime Provinces. It's been designed for FSX by Sidney Schwartz.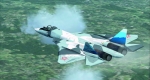 Sukhoi-57 T50 Stealth Fighter
The Sukhoi-57 T50 is a fifth-generation superiority fighter that made its first flight in 2010. It will enter service in 2019 and was designed to replace the Su-27. This detailed version was produced for FSX, P3D and FS2004 by Erwin Welker.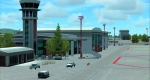 Ganja International Airport
Ganja International Airport serves Ganja (also known as Gyandzha), which is the second largest city in Azerbaijan. This version for FSX was designed by Reza Sadri.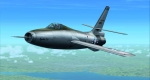 Republic XF-91 Thunderceptor
Quite an unusual 1950s aircraft, the Republic XF-91 Thunderceptor was a prototype jet fighter for the US Air Force. It featured an inverse tapered wing that provided better lift on landing. It was designed by Uenoshing.
Screenshot Gallery
To help give our readers a better appreciation of the products reviewed in this issue, we have compiled the screenshots accompanying some of the articles into a series of galleries.
Flysimware's Falcon 50
The ultimate high-performance trijet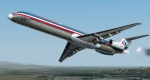 Leonardo SH's Fly the Maddog X
A true study sim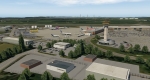 Orbx's TrueEarth GB North for X-Plane
Orbx completes the British landscape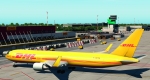 Aerosoft's Airport Bergamo XP
Milan's third airport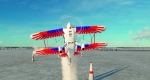 Leatherneck Simulations' DCS: Christen Eagle II
An aerobatic delight!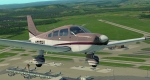 Just Flight's PA28-181 Archer III
Just Flight's Archer hits its target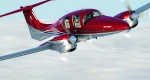 Vertx Simulation's Diamond
DA62 – Return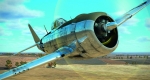 1C Maddox's IL-2 Sturmovik
1C Maddox's work on IL-2 Sturmovik continues unabated, particularly in the past few months.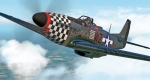 SkunkCrafts' P-51D Mustang
In this interview, we talk to SkunkCrafts to find out about the work that was involved in creating their superb P-51D Mustang - designed for X-Plane 11.
PC Pilot Article Index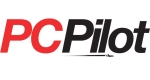 PC Pilot Article Index
Looking for a review on a particular product, feature or tutorial?
Virtual Airline Listing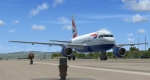 Virtual Airline Listing
We have some interesting new additions to our virtual airline and flying club listing.
Installing Freeware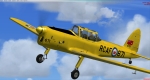 Installing Freeware
We have included a PDF as a download with instructions on how to install freeware. To access it, click on the download link below.
Utilities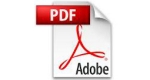 Acrobat Reader
You will need Adobe Acrobat Reader in order to open and read PDF files.