Online Content
Issue Online Content
Contents - log in to gain access
Online Contents Full Download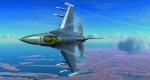 Issue 125 Online Contents Full Download
As requested by our readers, the complete file set accompanying Issue 125 can now be downloaded as a single zip file.
Movies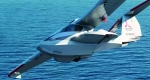 Microsoft Flight Simulator Feature Discovery Series Episodes 3 and 4: Aerodynamics and Cockpits
As part of its 'Feature Discovery' video series which showcases the core features of their upcoming simulator, the Microsoft development team released Episode 3: Aerodynamics and Episode 4: Cockpits. The whole series illustrates the thought process and sheer hard work that has gone into producing this stunning simulation. Here are the links to the presentations: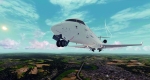 Aerosoft Interview
In our interview with Aerosoft's CEO, Winfried Diekmann, starting on page 32, we discuss the past 12 months from his company's perspective as well as the year ahead. Here are three videos which showcase products mentioned in the interview.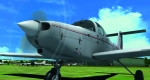 Just Flight Interview
As part of our look back at the past year in flight simulation, we spoke to Scott Phillips, Just Flight's marketing manager (see pages 28-30), and discussed what the last 12 months have been like for the company and how they view the future in this ever-changing industry. With that in mind, here are three videos of products released from the Just Flight hangar in 2019.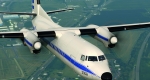 Carenado F50
This video highlights the beautifully rendered exterior of Carenado's F50 and the equally exquisite interior details of the cockpit and cabin areas, while the aircraft's sleek and elegant lines are shown off to good effect. Read our detailed review starting on page 16.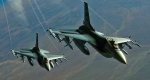 Eagle Dynamics' DCS: F-16C Viper
This dramatic and cinematic presentation shows off Eagle Dynamics' F-16C Viper to good effect. Every opportunity is taken to highlight ED's attention to detail: from the accurate rendering of the aircraft's external features to the equally detailed cockpit area. Aerial shots showcase how well ED has replicated the F-16's distinctive look and lines. Its legendary manoeuvrability and air-to-ground capability is also featured in this video. To read our full report on this stunning simulation, turn to our review starting on page 68.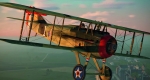 IL-2 Sturmovik: Flying Circus Volume I
To accompany our new series on air combat simulation, we thought it would be appropriate to regularly showcase the flight simulations that will be featured in the coming months. On this occasion, it is 1C Game Studios' 'IL-2 Sturmovik: Flying Circus Volume I'. Based on their previous Rise of Flight simulation, this is a "re-imagined" overhaul of that highly successful and immersive World War I 'experience'. This exciting video showcases the ten aircraft currently flyable in Flying Circus.
Tutorials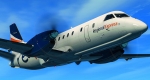 Saab 340 Flight Adventure
As usual, the download link below contains the flight plans for FSX/P3D and X-Plane and some Pilot's Notes with links for additional scenery and aircraft options for different simulator platforms.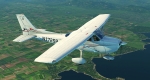 Back to Basics
Using real world techniques to navigate in Flight Simulator
Freeware Files
Library files
Most X-plane users will already know that many freeware airport designers make use of the freeware library files to enhance their creations. Consequently, it's important to read the documentation within each file to find out which libraries have been used. These library files need to be installed in order to experience these airports as the authors intended.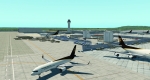 KSDF - Louisville International
Our featured download for this issue is a scenery file; in fact it's an airport.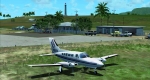 Hawaiian Island Airports
I used an airport from this package in my Honolulu review (p.24). The scenery includes all the main airports throughout the Hawaiian islands. They were designed by George Keogh who sadly passed away last year; our thoughts go out to his wife Christine and their family.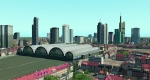 Frankfurt Main
This scenery depicts the region around Frankfurt Main and includes more buildings for the cities of Giessen, Mainz, Marburg, Oberursel, Siegen and others. Designed for X-Plane by Günther Kremp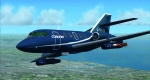 Dassault Falcon 20E/200
The Falcon 20, initially known as the Dassault-Breguet Mystère 20, made its maiden flight on May 4, 1963. It's a very smart low-wing monoplane design, powered by twin General Electric CF700 turbojet engines. Designed by Arild Elverum.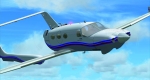 Adam A500 and A700
These aircraft were superbly designed for FSX and Prepar3D by Simon Smeiman. They depict two aircraft developed by the Adam Aircraft Industries that never made it into production. It's a comprehensive package that includes a full-colour manual.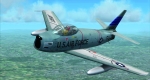 North American F-86H Sabre
Without question, the F-86 Sabre was one of the greatest fighter aircraft of all time. The aircraft shown here by the prolific AF Scrub depicts the F-86H fighter-bomber variant, which began development in 1951.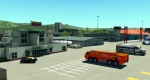 Aeropuerto Mariscal LaMar SECU
Mariscal Lamar International Airport is a high-elevation airport serving Cuenca, the capital of the Azuay Province in Ecuador. This nicely detailed version for X-Plane 11 was designed by Otavio Bonomi.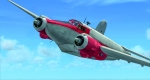 Lockheed Harpoon - Fire Tanker Package
This package includes a custom panel and gauges, custom sounds, custom FSX flight model and two liveries.
Screenshot Gallery
To help give our readers a better appreciation of the products reviewed in this issue, we have compiled the screenshots accompanying some of the articles into a series of galleries.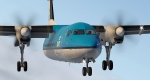 Carenado F50
Fokker's turboprop airliner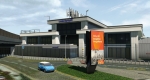 Orbx London City Airport (EGLC)
Fly into the Centre of London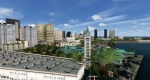 Orbx Cityscape Gold Honolulu
Aloha to Oahu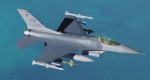 Eagle Dynamics' DCS: F-16C Viper
A Fighting Falcon for DCS World
PC Pilot Article Index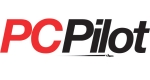 PC Pilot Article Index
Looking for a review on a particular product, feature or tutorial?
Virtual Airline Listing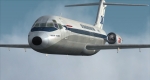 Virtual Airline Listing
We have some interesting new additions to our virtual airline and flying club listing.