John Venema has revealed the 2019 roadmap for Orbx as the company embarks on a major expansion programme with its new UK development centre, which will focus on True Earth regions and airports, and its IT Centre in Melbourne which will focus on a new product delivery infrastructure.
The following is an extract John Venema released on the Orbx forum:

"I am going to start by focusing firstly on our core systems in terms of product delivery and customer experience, then onto our core sim platforms.
Goodbye FTX, It's Been Real!
Next year the "FTX" tag will be dropped from the products, website, apps and documentation. FTX was an acronym based on the original 2007 product line "Full Terrain Experience" and whilst we still endeavour to bring you the most authentic terrain possible for each platform, we going to focus on the single Orbx brand to avoid confusion to customers. You will already have noticed that FTX has all but disappeared from the OrbxDirect website; for example we now refer to the former FTX Global as Global Base Pack.
Orbx Central
Completely new for 2019 is Orbx Central, the multi-platform version of what used to be called FTX Central 3. This is a complete re-write of the code from the ground up and it now runs on Windows, MacOS and Linux. Here's a sneak preview of the login screen shown on all three platforms.
Customers using Orbx add-ons for XP11 on Mac and Linux will now have the same seamless experience as their Windows cousins. The number of changes and enhancements to Orbx Central is just too long to mention here and early in 2019 Ben will be sharing a detailed in-depth announcement on the new version and all the benefits that it brings.
OrbxDirect
The OrbxDirect website/store will be changed, mostly to improve the browsing and selection experience. In 2018 Orbx introduced multi-currency pricing shown on product pages, and also the ability to filter the site by simulator platform:

Prepar3D V4
The majority of new content is for Prepar3D. This is still the dominant platform used by over 70% of all its customers. Whilst it may have appeared that over the past year we have lost focus on P3D in favour of XP11, this is a perception mostly based on ports of airports from FSX/P3D. Most of that ported content is six years old. In 2018 we released twenty brand new content products for P3D, versus 12 products for XP11, most of which were ports from P3D.
Last year Orbx embraced new simulator platforms. However, this should not be viewed as a "threat" to those of you who use P3D as your main platform, because any content released for P3D first will come to XP11 eventually –  and vice versa. As we begin to hire more staff to cope with the demands of multi-platform development, you'll begin to see the gaps between platform releases come closer together until we will almost have concurrent releases.
A heads up though – we will slowly be phasing out support for FSX as developers begin to implement new tech such as PBR and the use of larger textures. You saw this trend start with TrueEarth Netherlands for P3D only, and the recent Tyabb Airport is again P3Dv3/4 only, as well as some upcoming releases shown below.
Here are some of the P3D products in development (not a complete list):
openLC Africa – FSX/P3D
The highly anticipated next instalment of our openLC series is due in Q1 2019 and here are some preview shots.
New landclass textures
New autogen building types
Arid city night lighting
Arid city
More unique landclass textures
NZNV Invercargill – P3D
Tim Harris is working on another iconic airport for New Zealand. NZNV will be a fully modelled airport featuring the new terminal, 540km sq of pristine photoreal imagery, full city of Invercargill with many POIs, Bluff Harbour including the town and seaport, Flat Hill windfarm and the Tiwai Point aluminium smelter.
KSGU St George Regional Airport – P3D
Misha Cajic's next project is a desert airport in Utah that only opened in 2011. It hosts GA and airline services for the area, and will come with an enormous coverage area covering the beautiful red coloured plateaus and mesa's all around the airport, as well as multiple lite renditions of smaller airports in the area.
KSBA – SODE Jetway update – FSX/P3D
LDDU – SODE Jetway update – FSX/P3D
Channel Islands Alderney – P3D
The first of the Earth Simulations Channel Islands series given a new lease of life by Turbulent Designs, Alderney is progressing very well and has many enhancements over the original release. Expect a release early in 2019.
CityScene Honolulu – P3D
Holger Sandmann and Frank Schnibben have been working on a project sure to delight most simmers – a complete coverage of the Honolulu area!
Here is a render of the cityscape
And overlaid onto the photoreal imagery
This is then combined with landclass enhancements

Australia Version 2.0 – FSX/P3D
The one that has been eagerly awaited by thousands of you for a long time, here are the first sneak previews of this monumental upgrade of the oldest continent on Earth. Here are some of the highlights to look forward to:
Wooramel River, Western Australia
Telfer Mine, WA
Sunrise Dam Gold Mine, WA
Sunrise at the Olgas, NT
Shark Bay, WA
Port Phillip Bay, Victoria
Lake Eyre, SA
Lake Eyre facing south
Kalgoorlie Mines, WA
Great Barrier Reef, comparison to AUv1
Cadia-Ridgeway Goldmine, NSW
Boddington Gold Mine tailings, WA
One of the major undertaking of AUv2 is the upgrade of all 400+ default FSX/P3D airports and additionally the inclusion of 400+ grass strips. A lot of the work that went into these airport upgrades is the final legacy of Neil Hill before his sad passing.
YBUN Bunbury WA enhanced
Flinders Island, Tasmania – Terminal day
Terminal night
Also included in AUv2 is a comprehensive cityscape of Melbourne, covering the CBD and reaching well out into the suburbs.
Melbourne cityscape model (before texturing)
Global BuildingsHD – FSX/P3D
Work continues on BuildingsHD, a project with a very long gestation which is finally coming to completion in early 2019. This will transform the look of every town and city on the planet in a single install.
Asia Central
Apartment complex
Russia
South America East
Africa Central
KSUN Sun Valley by Turbulent Designs – P3Dv4 Exclusive
A custom modelled airport area with sloped runway and taxiways, dynamic season textures using v4 native scripting, light reflections in puddles, custom modelled autogen around airport area, bonus 1ID5 Lukes Wood River Medical Center Heliport, many POIs and Turbulent RealFlora around the airport area
LEAS Asturias – P3D
This is the next project from Marcus Nyberg
ESSA Stockholm Arlanda – P3D – major update
This service pack will be quite big with lots of new models and textures and some areas of the airport has been updated to reflect the changes that has been made since the airport was released. Also all vehicles and clutter has been redone with new models & high-res textures, all of this with no significant performance loss, also this update includes SODE-jetways.
CityScene Orlando – P3D
CityScene Orlando is the biggest CityScene project to date – developed by Allen Kriesman, this scenery package covers a whoppingphotoreal area and includes two major airports – KMCO Orlando International Airport and KORL Orlando Executive Airport. We have also included Lockheed Martin's HQ east of the main coverage area.
CAE3 Campbell River Water Aerodrome – FSX/P3D
Here are a few screens from Larry Robinson's CAE3 Campbell River Water Aerodrome which also includes the town of Campbell River and some other odds and ends. During the 1960's CAE3 was said to be the busiest SPB in the world. This will be freeware.
Cityscape Cote d'Azur – P3D
Maurizio Georgi continues to make progress with his epic hand-crafted mini-region in the South of France.
Boulder City 61B -FSX/P3D
61B services tourist flights around Hoover dam and Lake Mead, short flight from Las Vegas, surrounded by some of the most colourful rock formations in Nevada. Scenery includes a huge photoreal covering lake Mead and surrounds and over 30 POI's. Main terminal is a very unique building faithfully modelled. A major release from Ken Hall based on photos taken by Orbx staff after FSExpo 2018.
LIEO Olbia city & airport – P3D
Matteo Veneziani's next airport includes a large photoreal area with dozens of POI's and a full recreation of the airport with 2019 layout, new 2019 runway extension and SODE animated jetways.
KBUR Burbank Bob Hope Airport – P3D
A quick sneak peek of Matteo's other project for 2019
ENBO Bodø – FSX/P3D
Tore Stranden continues to make progress with this complete re-make of his original project and is currently focusing on airside static vehicles, aircraft and ground polygon. No vegetation in place yet. Here are some screenshots from the airport area.
KDAL Dallas Love Field – P3D
Bill Womack shares some early renders of his next project
TrueEarth Great Britain South – P3Dv4
This has now entered official beta testing, so lots more screenshots incoming soon. Here are some pre-beta snaps.
TrueEarth Pacific Northwest – P3Dv4
Very early build shots from some time ago but scheduled for a 2019 release.
X-Plane 11
The new kid on the block (for Orbx at least), XP11 has made a big splash onto the VFR scenery scene in 2018 with our TrueEarth regions and ports of iconic small-to-medium sized airports. We are absolutely delighted with the extremely positive reception to Orbx's move to the XP11 scenery market and sales volumes have been very encouraging to say the least. Most importantly, we have not seen any major hostilities between enthusiasts from the main sim camps, with most people welcoming thousands of new forum members to the fold and sharing screenshots and videos from all the platforms we support. We have seen quite a few long time Orbx customers try XP11 for the first time as well. Our opinion is that each sim has its own strengths and weaknesses and many simmers have them all installed on their PC to suit what experience they are after for any given time. Long may this trend continue!
Our plans for XP11 in 2019 is to continue to port our legacy Orbx airports from P3D to XP11, concurrent to releasing brand new content as well. We will also continue to develop TrueEarth regions, with TE Pacific Northwest for XP11 being the first in North America.

TE GB South SP1 – XP11
No less than several hundred more POIs and bug fixes/improvements! Below is the third road colour option 'Darker X-Plane Roads' which blends in much more seamlessly into the Ortho.
TrueEarth Netherlands North – XP11
There is a poll still underway on the forums to see if there is demand for the northern part of the Netherlands to be released as a budget region to allow Schiphol to Heathrow flights. Once we get to a over 200 votes it will tell us whether to green light this. Here's a good indication of what it will look like:
TrueEarth GB North – XP11
Work is well underway for the final instalment of the Great Britain series, and here are some sneak preview shots from the Oban area:
Eagle County Regional Airport – XP11
Jarrad Marshall's classic high-altitude airport nestled in the heart of the Colorado Rockies, Eagle-Vail is notorious for its challenging terrain and difficult weather. As gateway to many nearby mountain villages and ski resorts, the airport is busy with airline and GA traffic, the attached National Guard rotary-wing base, as well as being one of the largest corporate jet bases in the country. Often listed as one of the world's most dangerous airports, be sure to test your mettle with the well-known and highly-unusual Gypsum Five and Meeker Two departures.
Unannounced Project for X-Plane 11
A single shot from an upcoming X-Plane project, which Jarrad is very excited about
EGSG Stapleford – XP11
Continuing our ports of the legacy airports from England, Scotland and Wales, the next one in line is Stapleford.
A few from Jon Murchison while performance testing during the beta (so not long now!)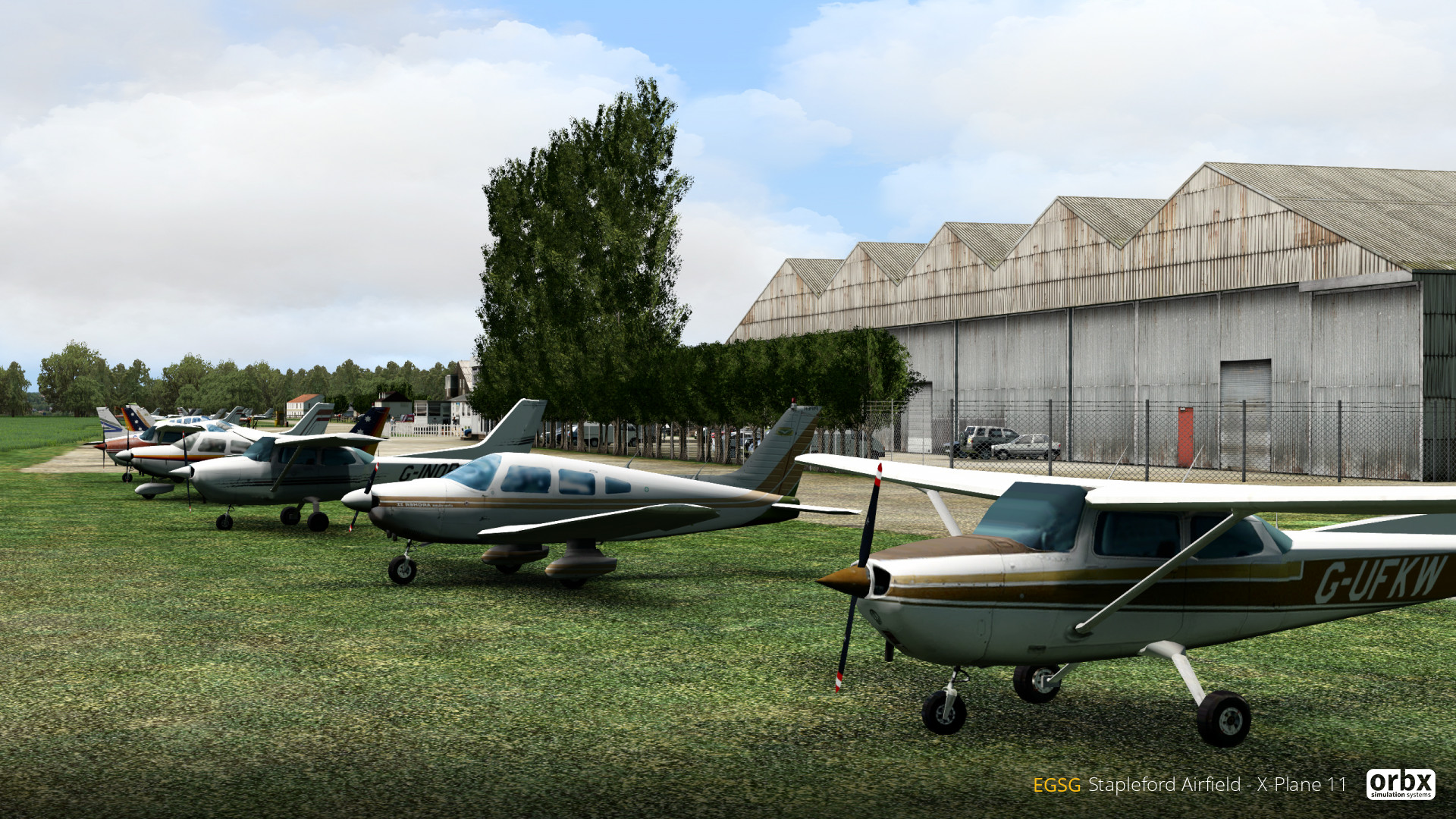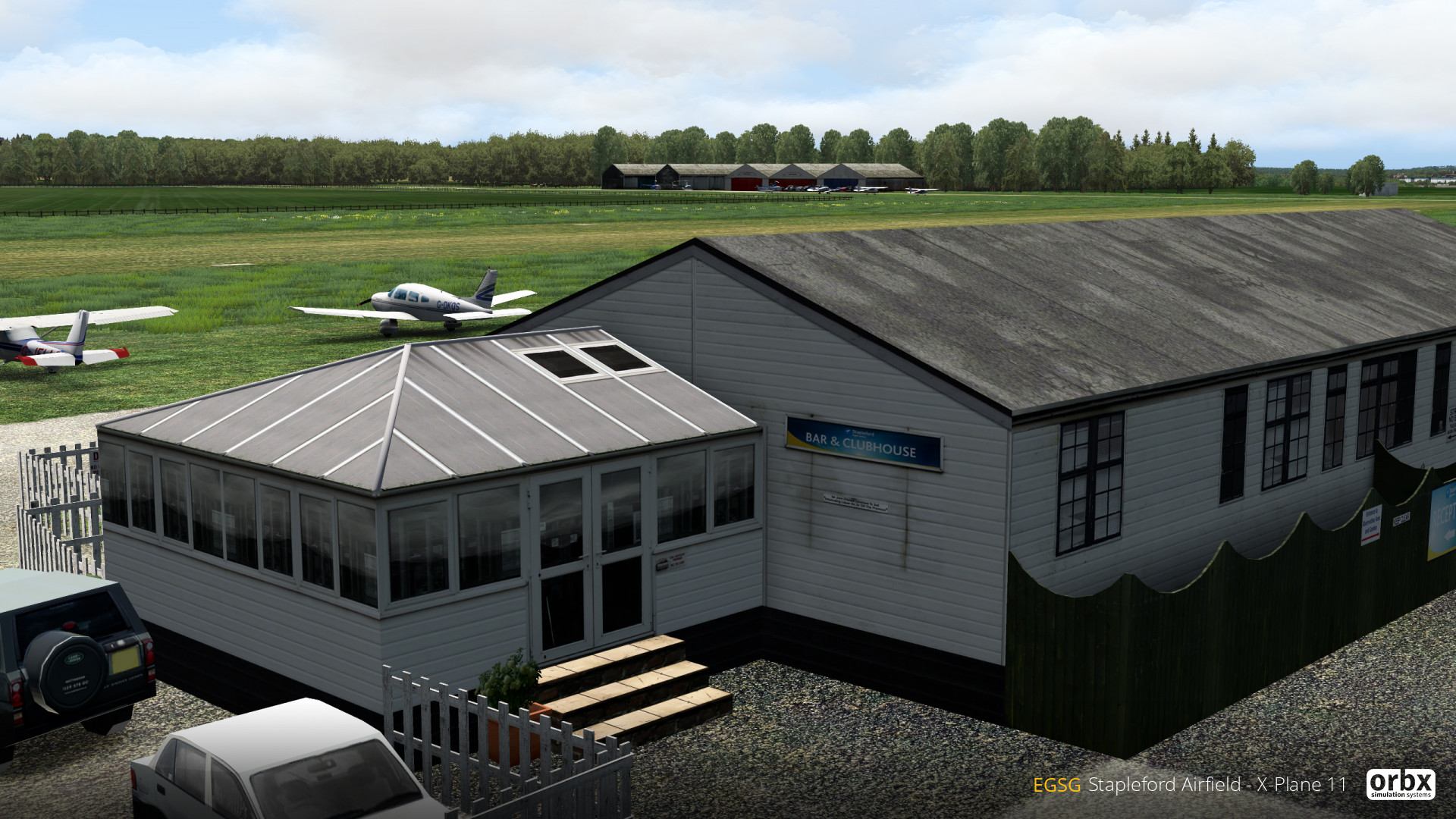 Orbx Global for XP11
R&D work has begun on providing a global replacement texture solution for X-Plane11. We are still at the experimental stage and looking at different approaches on how to solve the technical implementation. We are aiming for a release sometime in 2019.
XP Default textures
Orbx Global new textures
Aerofly FS 2
Plans for AFS2 in 2019 are less defined than for P3D and XP11, although Orbx will continue with some ports of the most popular airports which fall within an IPACS region DLC coverage, and perhaps porting the TrueEarth GB series to the sim. It offers the smoothest VR experience due to its incredible frame rates, made even faster with the recent Vulkan support. Orbx is constantly in communication with IPACS and thus have insight into some exciting new developments in store for 2019.
Sedona Airport, Arizona – for Aerofly FS2
An iconic airport set atop a red-rock mesa, located in one of the most scenic destinations in the United States. A short flight from the Grand Canyon, and within the default AFS2 scenery coverage zone, Sedona is popular with GA, helicopter, military and corporate flyers alike.
So that wraps up the 2019 Roadmap, and it's by no means an exhaustive list of some of the 50 projects we are working on behind closed doors. As you can understand we do keep some cards close to our chests so that we don't dilute the impact of announcing major new products in the first quarter of 2019. There is some very exciting new releases due in the first half of the year!
As a team we are very excited about the state of the consumer flight simulation software market, with many new developers entering the scene for the first time in 2018 and what we feel is a significant groundswell towards XP11 since 11.2x was released. We are seeing many younger people entering the hobby and a large part of our customer base is now made up of the 18-34 bracket. This is a very encouraging sign and bodes well for the future."
John concluded: "2019 will be an expansion and growth year for Orbx as we endeavour to meet the demand for our regions and airports from an ever-growing customer base. We hope that we can meet all your expectations!"
For the original post over on Orbx, click here.